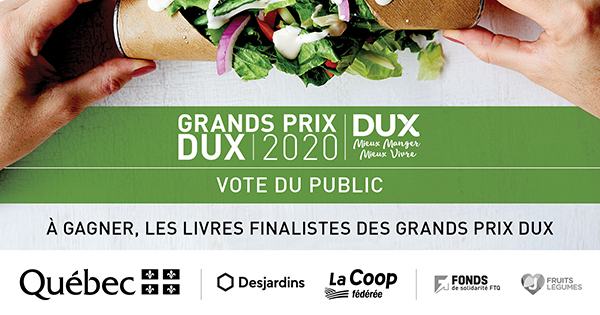 Which company stood out this year by revising the recipe for one of its popular products to make it healthier? What published book has helped thousands of Canadians cook more balanced meals? Which school has it set an example by promoting the consumption of fruits and vegetables among its students?
Each year, the Grands Prix DUX highlights the leadership of agri-food companies, non-profit organizations, institutions and non-food businesses that have innovated to help improve the diet of the population. During the DUX Gala, around twenty prizes are awarded in three main categories: Products, Communications and Projects.
The Grand Prix DUX competition was the very first initiative launched by DUX Mieux Manger, Mieux Vivre in 2011. Since then, it has rewarded nearly a hundred industry leaders and encouraged as many others to place health at the forefront. at the heart of their development and projects.
This year, some of our members as well as the I Love Fruits and Vegetables Movement are candidates! Vote for them!
"Communication" category:
I love fruits and veggies Movement : price comparison
Loounie (Caroline Huard, I Love Movement ambassador) : cookbook "100% vegetable tips and recipes"
Hubert Cormier (I Love Movement ambassador) : recipe book "Protein breakfasts"

"Products" category:
CrocBio : organic root vegetables in compostable trays
Lassonde : Hydra + oral rehydration solutions
Cascades : cardboard tray for fresh vegetables
Bonduelle : One pot Arctic Garden
Bonduelle : Del Monte Fruit & Oats

Category "projects":
Fondaction : Growing to make sense of the future

To participate in the public vote, you must vote for a candidate in each of the categories. there is one category per page. Selecting an application will allow you to move to the next category. There are 4 categories, namely: communication, precursor, product and project.
Click here to access the contest page!